Short-Term Vacation Rental Reopening Plan for Monroe County (6/2020): COVID19 GUIDELINES
Safety, Common Sense and Courtesy should always prevail
Marina Rules & Regs

The purpose of this manual is to provide an abbreviated version of the rules and regulations of the Moon Bay Condominium Home Owners Association. This manual is not intended as a substitute for the condo docs. It is the responsibility of the unit owners to insure that their guests and tenants are familiar with and abide by the rules and regulations.
The Moon Bay employs property management, staff, and security to see that rules are complied with and that the assets of the association are protected and that the rights of other owners and their guests are protected.
Glossary
The following terms are used throughout this booklet within the context of the following definitions.
Renter – a person, persons, or legal entity entering into a rental or lease agreement with the unit owner for a specified period of time, for the use of a unit.
Guest – a person, or persons staying at or otherwise using a unit in the absence of its owner without paying rent or entering into a rental or lease agreement.
Visitor – a person or persons visiting a unit while the owner, renter, or guest is present.
General Rules (substantial rewording January 2019)
All condominium units shall be used solely for residential purposes. Conducting trade that would require license or certification by governing authorities is prohibited.

Unit owners, renters, or guests, shall not use or permit the use of their unit for any purpose which violates any federal, state, county, or municipal law or statute. 

The maximum number of people in a unit residing is 6 or 8 (if 3 bedroom unit, example Penthouse) + 2 if overnight and minimum rental period is 7 contiguous days only if owner has applicable license(s)/compliant (County Link). Moon Bay is a gated community with access control and surveillance cameras/monitoring/neighborhood-watch. On call 24/7 Guarantee property management 305-262-6120 or locally Ty Burke 305-304-5071 /

[email protected]

 to assist owners/guests/renters 24/7 for nominal fee starting at $100 per call as independent contractor / CAM licensed (lives just a few minutes south of Moon Bay).

Children shall not be allowed to play on the walks, in the corridors, elevators, or stairways of the condominium. 

The use of the common elements shall be limited to those for which they were originally intended, and shall not be abused, defaced, littered, or obstructed. 

PETS: (a) All must conform with applicable Monroe County animal control health codes. (b) Dogs and cats must be on a leash and in control of their owner/handler when in the common areas. (c) Pet owners/handlers must pick up and properly dispose of any pet droppings, make sure their pets are well trained, not disruptive or dangerous, and that they are not a disturbance/nuisance. (d) Pets are not permitted in the pools, pool deck, sun deck, or clubhouse. (e) Exotic pets are not allowed. Up to two dogs of 80 lb. or less each. Or up to two house cats, Or one dog or house cat. Fish aquariums are allowed and up to two quiet type birds per unit. Any unit owner who keeps or maintains any pet shall, in exchange for and in consideration of the privilege to keep the pet, hereby indemnifies and holds the association and each unit owner free and harmless from any loss, claim or liability of any kind or character of whatever nature arising from or related to the keeping or maintaining of such pet in the condominium. Only exception "service animal specifically trained to aid a disabled person".

No A/C Window/Split Units, antennas or wiring can be installed outside the building without the written approval of the association. 

Electronic or sound equipment and musical instruments must be used at such times and in such fashion so as to not create a disturbance to others. Musical instruments cannot be played between the hours of 10pm and 8am. 

Unit owners, their renters, or guests shall not attempt to supervise any association employee or attempt to use any association employee for private business. 

The use of all recreational facilities is governed by all rules and regulations. 

The Association, through its manager, must have a working passkey or code for each unit. Upon changing any lock, the owner is responsible for making a new key and/or code available for this purpose. 

No awning or other projections can be attached to the outside walls without prior written approval. 

Garments, towels, rugs, etc. must not be hung from balconies, handrails, or windows for any reason. 

Hallways and landings must be kept clear at all times. 

"For Rent" or "For Sale" signs or any other sign or notic e cannot be displayed in a unit if visible from the outside. 

All remodeling work must be approved by the Board of Directors and performed in accordance with existing applicable codes and with proper building permits.

Owners must make their renters and guests aware of water conservation. 

Open flames, such as when barbecuing, are not permitted on the balconies, patios, parking lot, or docks. There are barbecue areas provided near the clubhouse and tennis courts. 

"NO FIRE WORKS" ANYWHERE ANY TIME AT MOON BAY...FIRE / SAFETY / LIABILITY HAZARD!

In Florida, possession or use of illegal fireworks is classified as a misdemeanor-

-if you violate the law, you can be arrested and fined up to $1000 and sentenced up to a year in prison.

All renters and guests must pre-register at the office or via email. They should use the registration forms provided and obtain a permit for their vehicle indicating unit #__ cell #__  prominently displayed in their car dashboard or windshield (at times the association may need cars to be moved to make repairs, if unable to identify car, it will be towed at owner's expense by Guys Towing Key Largo @ $300 w/daily storage charges until claimed)...305-942-1429 (MM99)
All garbage must be secured in plastic bags (max 13 gallon) before disposal in the trash chute. Trash and recycling bins are provided in the trash corrals near exit gates. Trash that does not fit in the chute must be taken to a dumpster (no pizza or oversized bags/boxes). Under no circumstances is it permissible to leave trash in the hallways, chute rooms, or common areas. Disposal of construction waste or furnishings is not permitted.

Bicycling is limited to the parking area. Hallways, lobbies, tennis courts, docks, pool areas, sun deck, clubhouse and walkways are off limits to bicycles.

Skateboarding, roller-blading, and roller-skating are not permitted on the Moon Bay property.

Only tennis shoes are permitted on the tennis courts. The courts are only to be used to play tennis or Pickle-Ball.

Owners forfeit the use of the common elements and other facilities associated with their units when they rent or lease it. The forfeiture last for the duration of the rental period.

Personal storage is not allowed in any common area.

Owners (or their guests) MUST turn off the water in their unit if the unit is going to be vacant for more than 48 hours. Leaving water on when there is no one in the unit that would notice a leak has been considered  negligence by the Florida courts in the past. Florida Statute 718.111(11)(j) allows the association to charge the homeowner who has not complied with this rule the full cost of repairing damage due to a water leak stemming from their unit.  Leaks from vacant units are frequent and tend to cause more damage that those from occupied units.
Owners MUST provide proof of liability insurance prior to completing any repairs or renovations to their units. With this rule, if a homeowner caused a leak themselves the association will either have the homeowner's insurance information already and can immediately place a claim, or if the homeowner failed to provide proof of insurance, the association may charge the owner the full cost of repairing the damage to the common elements caused by the leak.
Owners MUST utilize licensed and insured vendors, and must provide to the association proof of liability insurance for any vendor working within their unit prior to work commencing. This allows the association to immediately place a claim for damage. Further, if the homeowner failed to obtain proof of insurance, Florida Statute 718.111(11)(j) allows the association to charge homeowner who has not complied with this rule the full cost of repairing damage to the common elements.
Owners must provide a working key to their unit as per the recorded condo docs (#11/p.68). The association must maintain a "working" key to have access to "all" units in the event of an emergency, such as fire, leakage, etc. No owner shall alter any lock or install a new lock without the written consent of the association. Said unit owner shall provide an additional key for the use of the association pursuant to its right of access to each condominium unit. Digital code can be provided as a "backup", but must provide a working key to the association (digital lock w/key backup).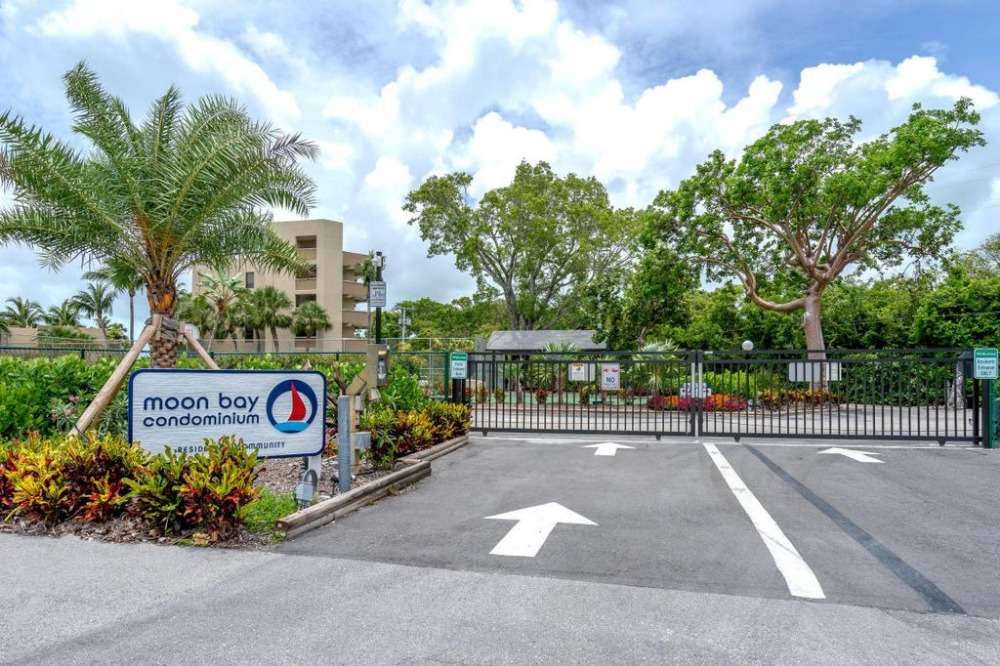 Parking Rules
All owners must have a parking decal on their vehicles prominently displayed on windshield with their unit #.

All renters, guests, and visitors must display a parking permit on the windshield of their car, identifying the unit #_ that they are staying in "and" cell #_ prominently displayed in their car (at times the association may need cars to be moved to make repairs, if unable to identify car, it will be towed at owner's expense by Guys Towing Key Largo @ $300 w/daily storage charges until claimed - MM99 / 305-942-1429). Owners, renters, and guests must park in the space designated for their unit to avoid being towed.

The only motor vehicles allowed to park are cars, vans, sport-utility vehicles and pickup trucks.

Commercial and/or lettered vehicles may only be parked on the premises while engaged in a service to the association, an owner, renter, or guest.

All vehicles must have a current license tag and carry liability insurance.

Storing a motor vehicle in a "visitor" parking space is not allowed. One week without moving the vehicle will be considered as storage.

No empty or loaded boat, watercraft or travel trailers are allowed on the Moon Bay property.

Parking your vehicle in another unit's space puts it at risk of being towed without warning, at your expense.

Any towing and/or storage charges resulting from an enforcement of any of the above rules are the sole responsibility of the owner/operator of the vehicle involved.  Guys Towing Key Largo charges $300 plus daily storage charges until picked up (10am-5pm tow office hours) 305-942-1429 / MM99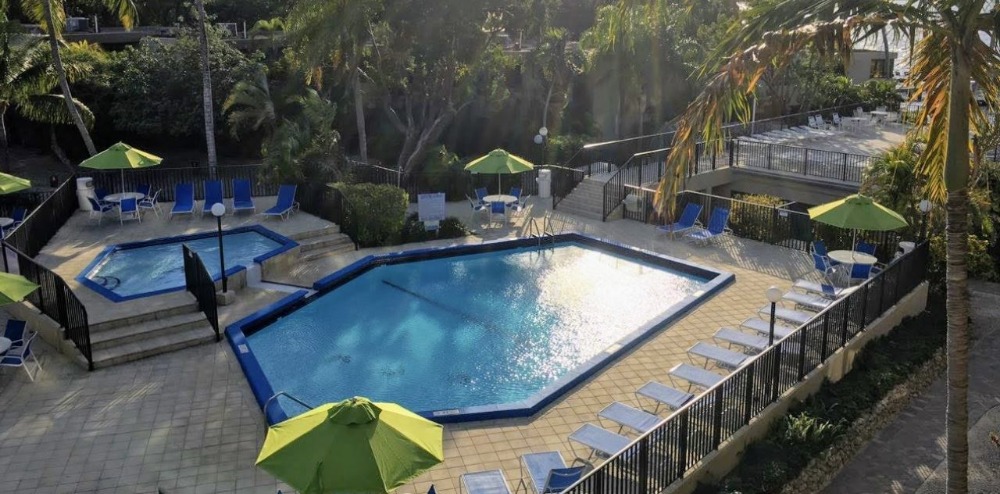 Pool Rules 
Pool hours are from 8am to 10pm every day. Quiet hours are to be observed between 10pm and 8am.

Scuba equipment is not allowed in the pool.

Glassware/bottles not allowed on the pool deck, on the sun deck, or in the pools. Report promptly to property management any broken glass "and" those responsible for violating the rules (report time/date to back up surveillance cameras video)... pool must be closed/drained/cleaned FloridaHealth.Gov at the expense of those responsible.

Pool Deck furniture must not be removed from the pool deck area.

Garments or towels cannot be draped over the railings.

Babies requiring diapers are limited to the kiddy-pool, and must be wearing leak proof pants. Any individual with a condition that impairs their control of bodily function must also wear leak proof bathing attire.

Children under 12 years of age must be accompanied by an adult.

Food, drinks, horseplay, and over-sized floating mattresses are not allowed inside the pools.


A towel must be placed on the pool chairs when in use, so as to keep lotions, etc. off the chairs....no savings of lounges/seats/tables--you/guests must be present in the pool/deck area.

THere shall be no smoking in the Moon Bay Pool/Sundeck, Clubhouse or bathrooms

No Pets are permitted in the Pool/Sundeck, Clubhouse or bathrooms (exception "service animal specifically trained to aid a disabled person")

Swim at your own risk. There is no lifeguard on duty.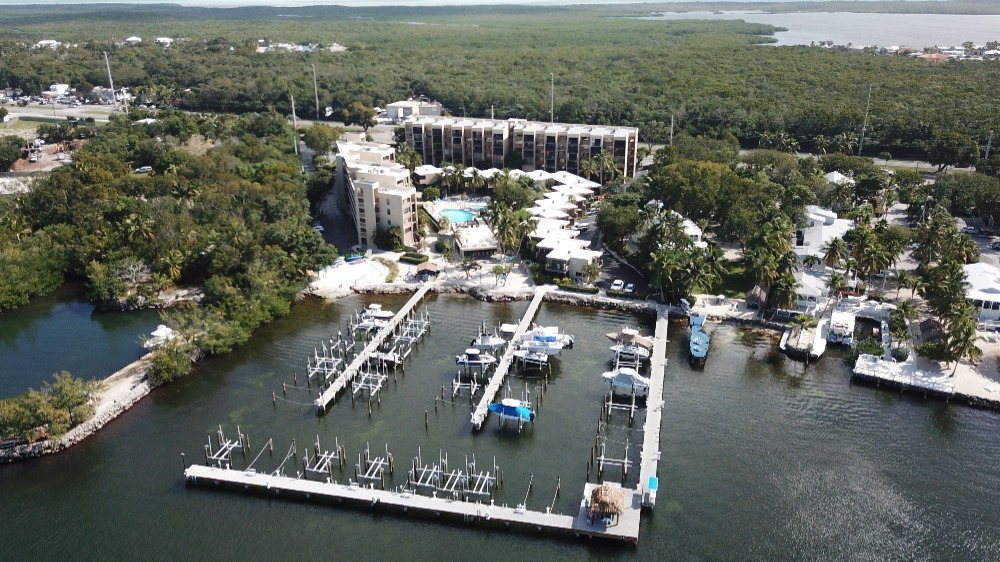 Multi-Slip Facility Rules (substantial rewording January 2019) https://myfwc.com/fishing/saltwater/recreational/
Dockage limits are as follows: 1 boat not to exceed limits specified or 2 personal watercraft. Personal watercraft are defined as jet skis / PWCs, kayaks, canoes, sunfish type sailboats, etc. There shall be no boat or watercraft docking other than in designated boat slip units.

All vessels to be moored in the marina must be pre-registered with the office. Proof of liability insurance, minimum of $100,000 must be on file. Bring your own dock lines and fenders. Boat slips cannot be rented on their own or as stand-alone, but as part of condo a unit rental or to another unit owner who may not have a deeded slip.

Unidentified watercraft are subject to removal and storage at owner's risk and expense.

The maximum length overall of vessels moored in the marina shall not exceed thirty 30' on a lift or 24' tied in a slip. This measurement must include pulpit, bracket, swim/engine platform, engine(s) extended in-water vs engine(s) down if on boatlift. No vessel shall be moored in the marina in such a manner as to cause a hazard to navigation of other vessels--violations towed at boat owner's expense. Please make sure to inform renters/guests beforehand--no boat/PWC/Trailer parking nor launching. Renters/guests must email property manager ahead of time proof of insurance coverage and only dock in owner's slip to avoid boat being towed at renters expense.
No major repairs, including painting or varnishing, of any watercraft shall be permitted in the marina or any of the facilities without prior permission of the manager. No watercraft shall be fueled in the marina. Only biodegradable chemicals or cleaner/detergent solutions can be used in the marina. All facilities shall be kept clean and unobstructed. There shall be no dumping or disposal of refuse or polluting of the water adjoining any of the facilities.
Fish must be cleaned at the designated fish cleaning station – Station should be cleaned and hosed down after each use. Bones and carcasses (eyeballs pierced) are to be thrown into deep water. Do not place them in any common area such as trash container/dumpster, or shallow water. Owners/renters/guests must comply with current Florida fishing regulations  http://www.eregulations.com/florida/fishing/saltwater/

No feeding or watering of manatees is permitted in the marina, per federal law.

The south side of the main dock is for loading and unloading, and for visitors to tie up. There is a one hour time limit in effect. Overnight mooring is not allowed except in designated slips.

Dock owners and their renters shall be liable to the Association for any damages caused by their vessels to the docks or marina facilities. This includes damage as the result of a storm or other acts of God.

No children under twelve (12) years of age are allowed on docks/piers without a supervising adult.

No bikes, scooters, skateboards, roller blades or similar conveyance are allowed on the docks/piers.

No swimming in the marina.

All watercraft must be operated at idle speed in the marina.

All watercraft must be kept in a state of good repair and docked with safe docking lines of appropriate diameter to weight of vessel. Vessels should be tied directly to pilings, not to cleats on pilings. Cleats should be used to hang ropes only.


Clubhouse Rules
There shall be no smoking in the Moon Bay Pool/Sundeck, Clubhouse or the restrooms.

No pets are permitted in the clubhouse nor pool/sundeck (exception "service animal specifically trained to aid a disabled person")

All children 12 and under shall be supervised at all times while in the recreation areas, including the clubhouse.

The clubhouse is available for private use for a nominal fee (min.$200) and a damage deposit if assessed payable to Moon Bay (must leave room clean))--booking no earlier than 90 days out and must indicate # guests, specific date/times and hold harmless / indemnity release by owner. Please email reservation application to property manager office/company for additional information

[email protected]

 for board approval then posted on portal calendar as placeholder. Clubhouse is limited to owners only and owner(s) must be present during the function. Reservation limited to 6 hours--for example: mornings (10am-4pm mostly kids parties) afternoons (4-10pm weddings, birthday parties, etc.). Entrance gate access must be managed by the owner and parking off site for guest parking overflow.
Clubhouse cannot be reserved on holidays such as New Year's Eve/Day, Super Bowl Sunday, Mother/Father Day, Memorial Day, July 4th, Labor Day, Thanksgiving Day and Christmas Day. Clubhouse Reservation Form

Access to clubhouse bathrooms must be available at all times regardless of reservation.

In order to insure the comfort of the Moon Bay community, all noise including that of the television and radio, must be kept at an acceptable level. Security may advise that the doors be closed to aid in keeping the noise down.

The ping-pong or foosball table shall not be used for any other purpose. 

Quiet hours 10pm-8am, cleanup and turn off lights/fans when done.

The management and security staff of Moon Bay governs the Moon Bay Clubhouse. Individuals utilizing the Moon Bay Clubhouse are subject to comply with requests by the management and security in order to protect the assets of the association, as well as, keep the peace of the community. Management reserves the right to limit access to the clubhouse at any time.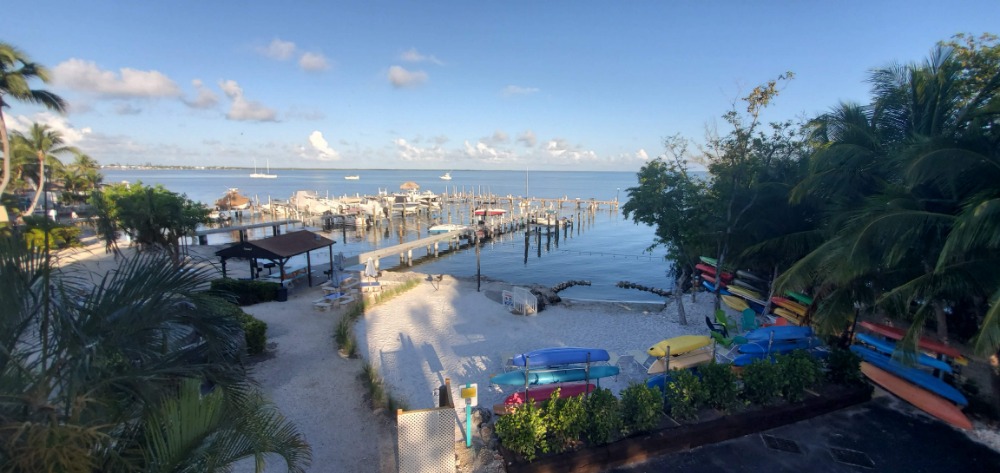 MOSQUITO CONTROL:
Stack kayaks upside down to allow water to drain, large kayaks on bottom and small ones on top of racks--must label on both sides prominently unit # (when not in use, must be properly stored).



Caution / Safety Notice - Kayaks, paddle-boards and bikes unit owners property / use only...owners responsible for the safety and well-being of family members and guests. Owners and their guests responsible for proper storing, securing and upkeep of their bikes, kayaks, paddle-boards and the like. If said items not properly labeled with unit # and appear abandoned or beyond repair/unsafe, said items may be removed by the association if owner(s) unresponsive.

Water activities can be very dangerous and physically demanding. The user of this product should understand that participating in this may result in serious injury or death. Always observe the following safety standards:
All users responsible for their own safety;

Always wear a Coast Guard approved and appropriate sized personal flotation device (life jacket w/plastic whistle or other loud noise making device for each person)--required by state law and the U.S. Coast Guard;

Be alert, kayaks/paddle-boards are hard to spot...avoid high boat traffic areas or channels. Do not kayak at night...but if you do, required to have a white light on board;

Check the tides and weather, know your route and tell someone of your plans;

Check the rules and regulations for the location, especially if you are in a state park, national park or conservation area. If you plan to fish, make sure you have a state-issued fishing license and know the restrictions and limits on fish in that area. Catching fish out of season, or of an incorrect size, yields big fines and can seriously damage fish populations;

Check all the equipment prior to use for signs of wear and failure;

Secure personal items/cell phone(s) or radio(s) in waterproof flotation storage or bag;

Never exceed your ability, hydrate and consult your physician prior to use of this or any watercraft;

Never allow minors to use this or any watercraft without adult supervision;

Follow manufacturer's recommendations for use of this or any watercraft.
The user of this craft acknowledges both an understanding and assumption of the risk involved in use of this or any watercraft.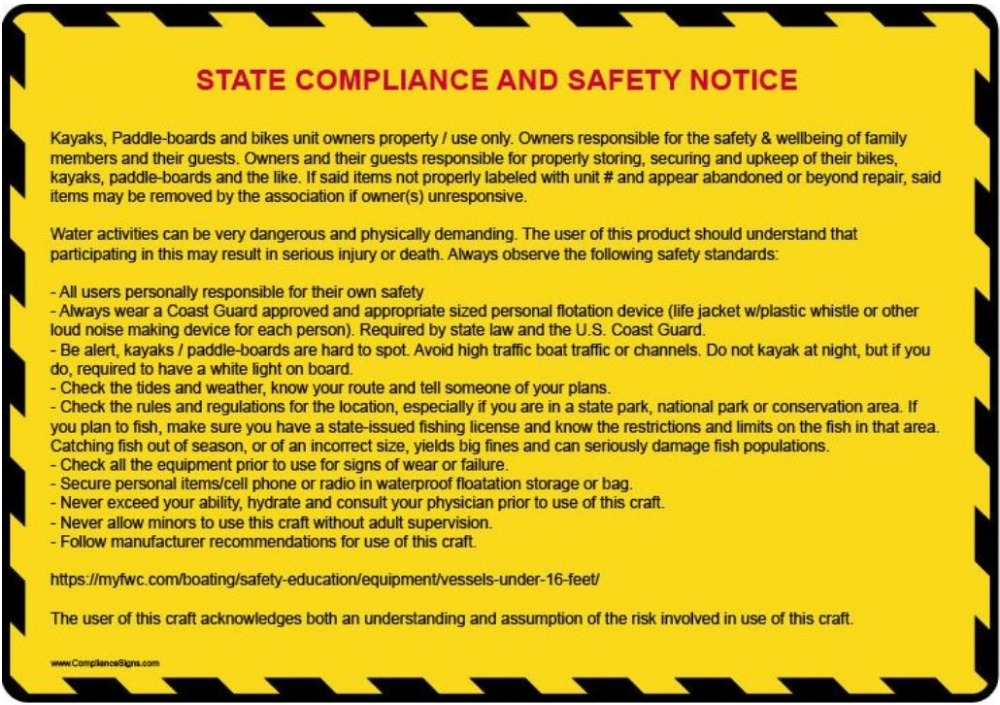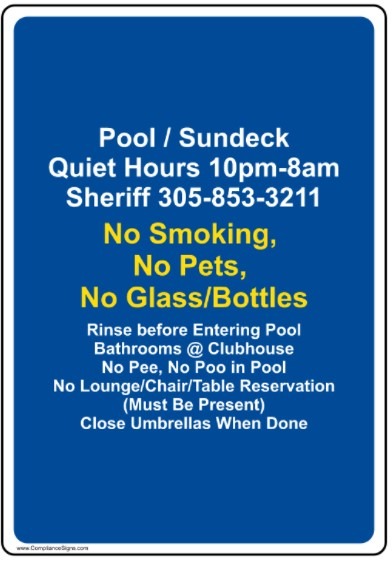 Gated Community w/Access Control & Surveillance Cameras / Neighborhood-Watch Monitoring - DVR Entrance/Exit/Marina & Common Areas ("Z")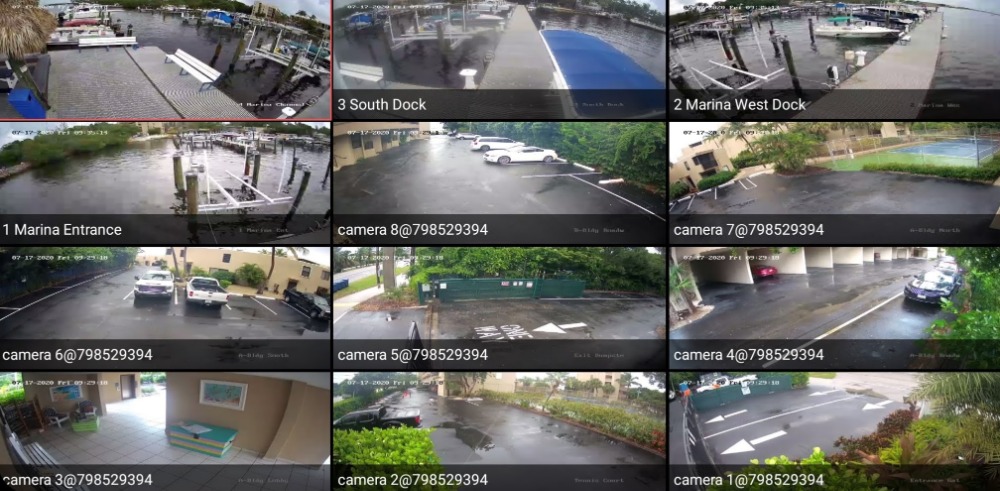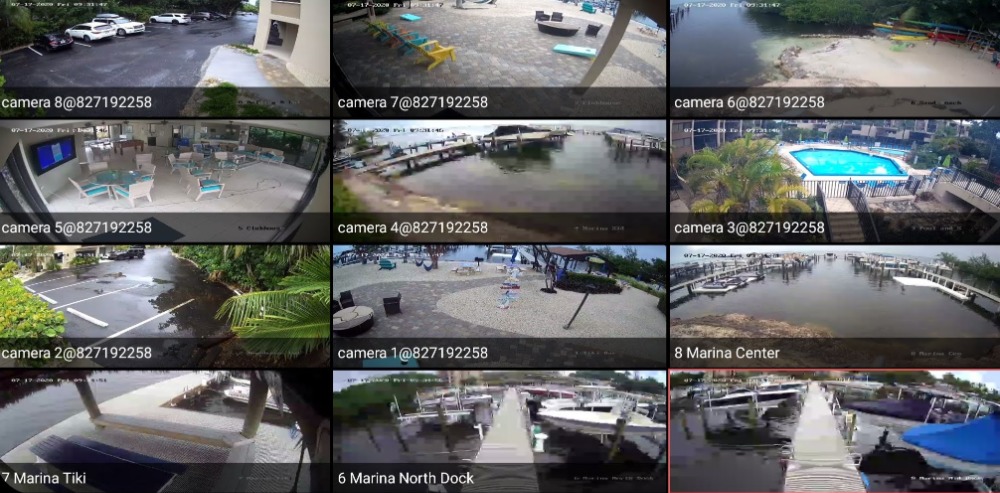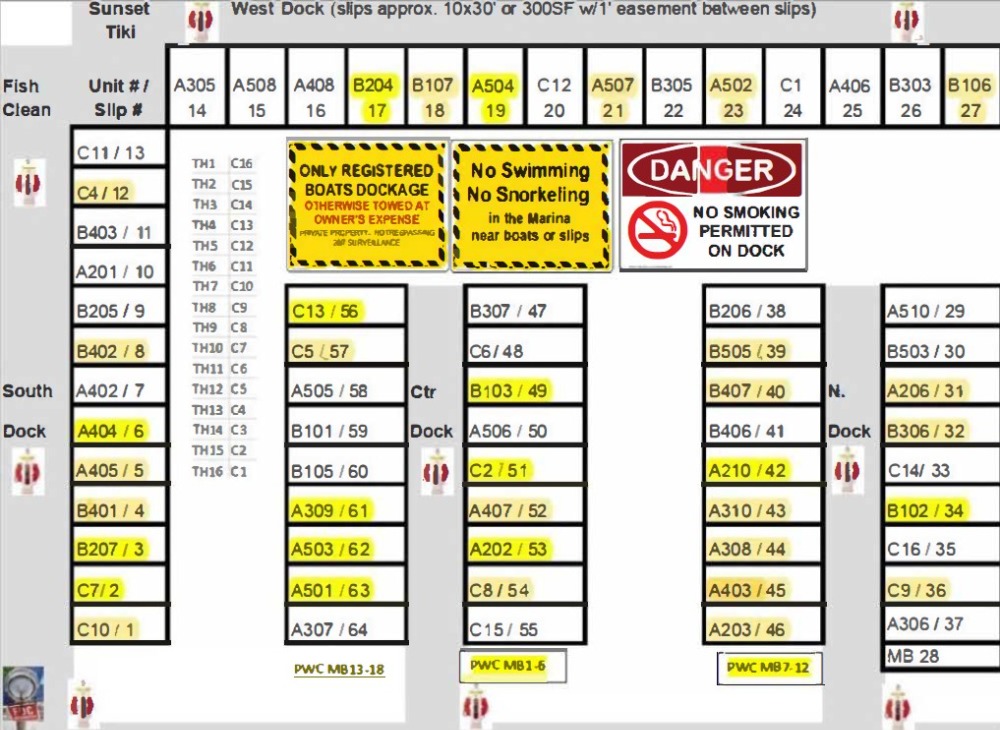 Vacation Rental State/County/Federal Compliance by Unit/Owner:
Each owner who wishes to rent their unit is responsible for compliance with County, State and Federal. Owners who use a licensed realtor to manage their unit(s) must first provide property management the name, email and telephone number of that individual/company to be kept in owner file.
Owners responsible for vetting their guests/renters, initial access to the property must be authorized by the unit owner who will provide certain information to property management for a parking permit to be issued and prominently displayed within the vehicle as instructed--the driver will be asked to provide a valid photo ID to be matched up with the name authorized by the owner.  Re-entry to Moon Bay is limited to persons with the valid parking permit as issued and must be completed in full with unit number and cell #. The slip cannot be rented independent of the unit and must register the boat/PWC.





Hurricane Prep / Equipment & Emergency Plans (refer to owners' portal MBKeyLargo.com regularly for updates and useful tips / guidance). Hurricane season is from June 1 - November 30th ... post storm re-entry Monroe County FL Keys windshield decal (Upper Keys "yellow" MM113-MM64) is available at DMV 101487 Overseas Hwy, 8am-5pm M-F Tradewinds Shopping Mall next to public library and Publix/Kmart or Sheriff's office. 

It is up to each owner to secure their respective units/balcony or patio and slips/lifts/boats/PWCs...prearrange to secure unit if out of town if named storm.


Monroe County Emergency Management
How to Prepare your Boat/Dock for Hurricane Season
After the storm Lift & Dock Inspection



Moon Bay Marina Rules & Regulations- Hurricane/Storm Preparation: (updated 6.3.2023)



General Marina Information
All slip owners storing a boat within the Moon Bay marina must have current registration & insurance policy information docs with Guaranteed Mgt (Maria

[email protected]

(100K Min. Liability)

Gas cans are not allowed within the Moon Bay marina.

Water source for cleaning boats, etc. should only be used from the slip the boat/vessel is stored within.

Use only ecofriendly cleaning products when cleaning boats.

Any boat being stored in water and not on a lift should be tied up properly as to not cause damage to its neighboring boat lift pilings or the dock upon wind and rough seas that the bay may encounter.

30' LOA of a vessel is allowed on lifts only in the marina.

24' LOA for those owning or renting any slip where the vessel is being stored in the water (those renting slips with lifts reverts back to the 30' rule)

Slips 28 and Sheriffs slips are Moon Bay's property and 24' LOA is what is allowed.

Sheriffs slip & slip 28 is a weekly cost of $200 per week per slip regardless of the amount of time being rented within the week.

Rentals of slips 28 and the sheriffs slip must be blocked on the Moon Bay portal calendar and payment must be sent at that time to Guarantee Management to reserve the spot.

If cancellation of Moon Bay slips (Sheriff or Slip 28) is made outside of 30 days then full reimbursement will be made, if within 30 days no refunds.

Rental agreement documentation should be understood when renting out your slip.

Any wave runner/jet ski needs to follow the same rules for insurance/registration documented with Guarantee Management- (No renting/ subletting of any jet ski/ wave runner slip is allowed within the marina. PWC floating docks only can be rented by owners annually.

Marina is for recreational use of owners and guests, no rental, charter business will be allowed.

All vessels must be in operational condition and no live-aboard.

No major boat mechanical or repair work is allowed on the marina docks—regular service OK, but do not block dock access and cleanup.

Docks must be maintained clear, walkable, and accessible to all, no storage allowed on docks.

Ice buckets must be returned to the Ice machine.
Hurricane Preparedness Moon Bay Marina
It is advised that any boat be removed from the marina when a named storm is in the path of the Moon Bay property, specifically those that are not on a lift.

All wave runner/jets skis must be removed from the marina when a named storm is in the path of the Moon Bay property- no exceptions.

Any boat remaining in the marina while a name storm is in the properties path should be anchored down to the lift pilings within its slip and not allowed to be tied to any component of the dock so that they are independent of each other.

Any loose items/articles on a boat should be removed from the vessel as to avoid air born materials that may cause damage.

Ty Burke can assist with tying/anchoring boats when a storm presents itself on radar, Hurricane Boat Lifts South can assist with hurricane preparation and for long term solutions Swing Stoppers can evaluate your lift/slip and give you a cost estimate for install of their system.

Please be sure to take photos of your boat anchored down in preparation for a storm/hurricane for purposes of providing to your insurance provider.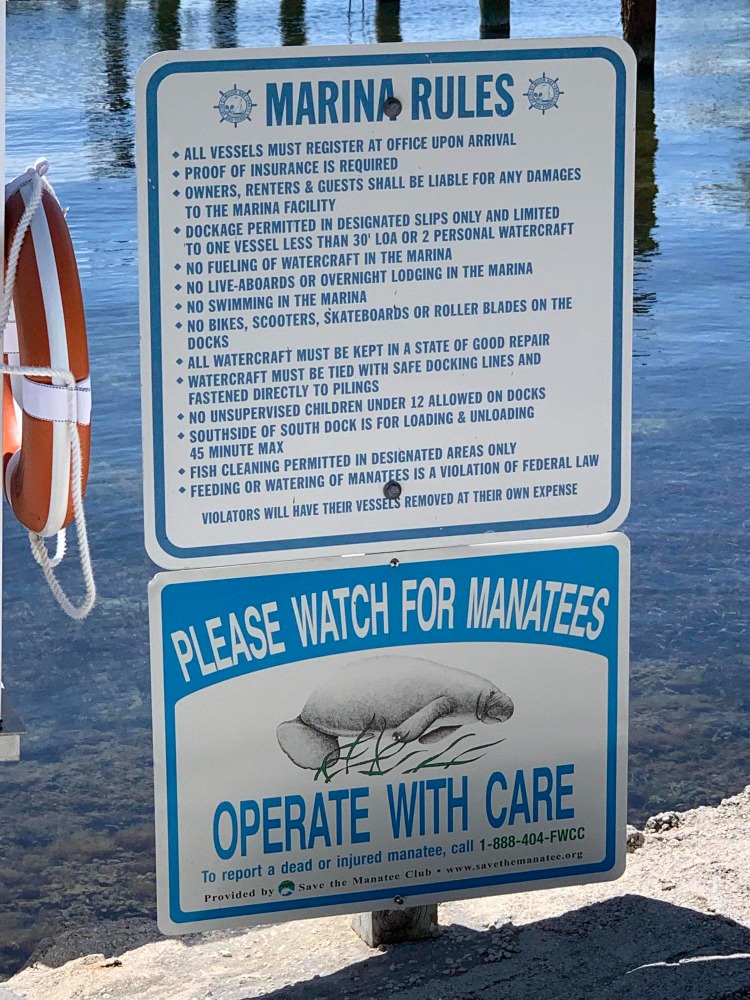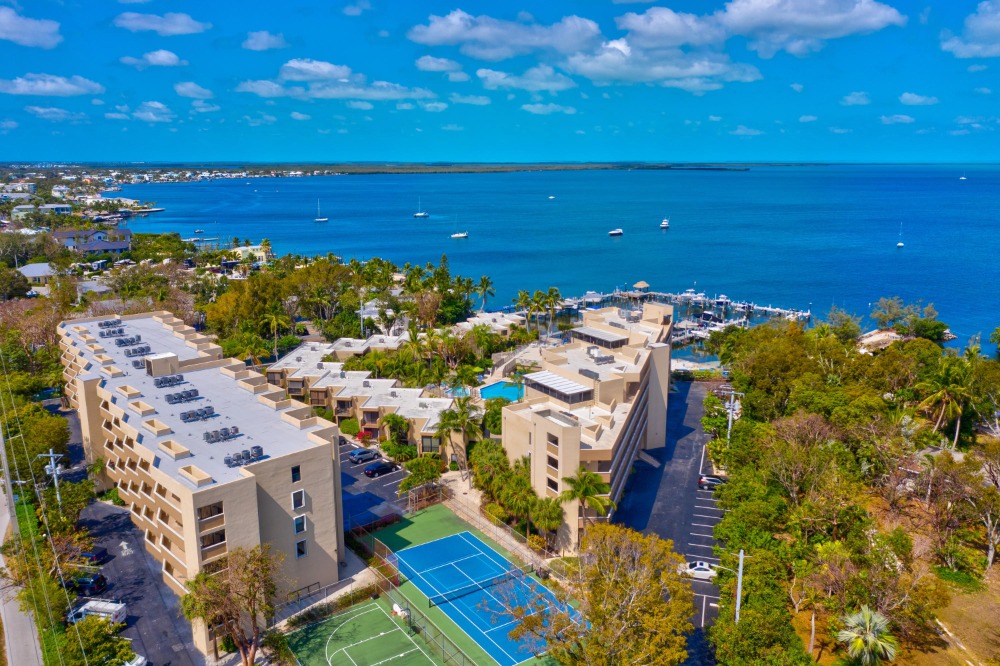 How to Play Pickleball